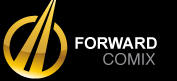 COMIX MAG IS NOW OFFICIALLY FORWARD COMIX

Thanks for Checking out COMIX MAG.
As of 2013 COMIX MAG was officially lunched as the publishing venture FORWARD COMIX, already carrying three titles and fives books.
This includes "Nowhere Man" and "Freeing Violet" that made their first appearance here.
Visit forwardcomix.com for the latest and greatest projects,
including the young adult novel series, Curse of the Griffin.